My name is Angelo Aragon and I participated in the NatureBridge program through CalTeach. NatureBridge is a 3 to 5 day outdoor education program geared towards grades 4-12 with its main goal to have students learn about environmental science in a more hands-on setting. Through CalTeach, I was able to participate in the program through an externship where I shadowed NatureBridge Educators and leading trail groups of about 10-12 middle school students. During the five-day externship, I was able to learn an incredible amount of information about creating an effective learning experience for students for environmental literacy and gain experience in a different teaching setting all while exploring the Santa Monica Mountains.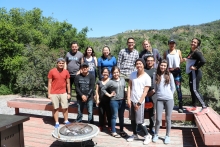 The five day externship followed a set schedule with the day beginning at 8am with breakfast, then the instructional day starting at 9am where we met with the NatureBridge Educators and begin the outdoor hike. The educator incorporated moments of instruction and team building activities throughout with the purpose of promoting environmental literacy, making them aware about global environmental crises and responsible environmental behavior. The educators continued with the hike and activities until the end of the session at 4:30pm. Afterwards the externs would debrief with their educator which was a great opportunity to get a better understanding of how and why they chose to interact with the students the way they did. Dinner followed the debrief and we had the opportunity to participate in an evening program with students.

After completing the full week program, I felt that I gained more than enough knowledge about outdoor education and how to create a safe and inclusive learning environment that can be applied to any classroom. It was a great experience seeing how students can be inspired to learn about current environmental issues and become knowledgeable on environmental literacy. I was also able to explore the beautiful Malibu Mountains and was able to go to neighboring areas during my leisure time. All in all, it was a great way to spend my spring break and I would recommend this program to any student that wants to gain exposure in different teaching careers.
The application process typically takes place early spring, but for more information see CalTeach's website: http://calteach.ucmerced.edu/outdoor-education.