Hello my name is Angela Van. I am a third year majoring in Biology with a Human emphasis. I have had the opportunity to travel abroad the past two summers to Vietnam and Peru. Since there's so much to share for both trips, I will just share my experience abroad in Peru.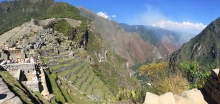 My trip to Peru was a week long and I was able to work closely with the doctors and learn the different symptoms and illnesses prevalent in the small village of Pomancanchi, Peru. It was a joint trip with the Global Medical Training (GMT) chapter at UCLA; there were five students from UC Merced and about 15 students from UCLA. The first day of arrival was an orientation day where the doctor went over how to take blood pressure, pulse rates, and what to expect. The trip consists of four clinic days and one free day. The first clinic day began with breakfast at 7 a.m. and clinic started at 8 a.m. The clinic site was set up in a small building where patients were already in line waiting to be seen. We were in small groups of 3-4 students with a translator and the patient. The patient presented their symptoms. One person would take the patient's blood pressure and pulse. We would ask about the patient's occupation, lifestyle such as eating habits, and how long the symptoms were present. Then as a group we would come up with a diagnosis. When we came to a consensus as a group, we would call the doctor over and present the patient's symptoms, our diagnosis, and plan of treatment. My group saw about 14 patients a day and in total we would see about 80 patients per day. There was a day when we did in-home patient visits for those patients that couldn't travel to our clinic site. As the trip came to an end, we prepared to leave the village where the locals sent us off with a last farewell through performing their cultural dance in appreciation for everything. My favorite part of the trip was meeting the locals and learning more about their culture. The Peruvian boys would come to the clinic site right after school and hangout with us every day of the week.
On the last day of the trip it was a free day, so we got to go to one of the world's wonder, Machu Picchu. After the hard work and long hours during the clinic, it was nice to relax and enjoy what the Peruvian culture and history had to offer. We were able to hike the Inca Trail and visit The Lost City built by the Incas. The trip was truly amazing and I knew that when I got back to the States I wanted to be President of Global Medical Training chapter of UC Merced, to share my experiences and encourage others to take advantage of this once-in-a-lifetime opportunity.
Interested in applying to a future trip? Join Global Medical Training (GMT) on Catlife and attend general meetings to stay updated on any upcoming trips. There is an application and interview process prior to every trip. Generally, GMT tries to have two trips per an academic year: one during winter break and one during summer break.