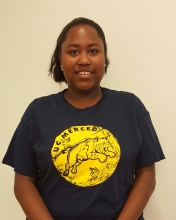 Jourdan Mason
Biological Sciences major, Human Biology emphasis
My name is Jourdan Mason. I am a senior biology major with a human biology emphasis. I am a Southern California native who loves the beach.  If I'm not going to one of my brother's water polo tournaments, I'm in the kitchen trying a new recipe.  Not many people are surprised that I picked UC Merced because of the helpful and friendly atmosphere but they are surprised to find out that it was the kindness of the janitorial staff that I talked to that sealed the deal. I think that the real beauty of UCM is the variety of opportunities.   Specifically the research opportunities that I have been able to participate in have made a lasting impact. My future goal to become a research physician directly stems from the summer I spent at the University of Alabama at Birmingham and the work I have done here with Dr. Jennifer Manilay. I am so happy and thankful to be a UCM student and I look forward to being an alumni of this amazing school. 
---
Maria McGahan
Biological Sciences major, Human Biology emphasis
Hello, my name is Maria McGahan and I am entering my third year at UC Merced. I am majoring in Biological Sciences with an emphasis in Human Biology.  In my free time, I enjoy going on hikes and spending time in the outdoors. I love country music and going to concerts. In the future I would like to go to medical school and become a pediatrician.
---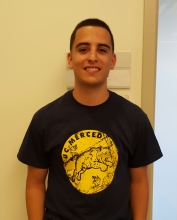 Theodore Baza
Psychology and Biological Sciences majors, Human Biology emphasis
Hello! My name is Theodore Baza, but everyone calls me Ted. I'm a third year majoring in Human Biology and Psychology. My main hobby is spending time with my friends and family. I used to play football for seven years, so I'm a big sports fan, especially football. All I do is talk about and watch sports, but again mainly football (Fantasy Football is life). As far as my goals, I am planning on becoming a Physician Assistant. I would also like to get a Masters degree in Public Health. I mainly listen to EDM music, I don't really like watching TV, I don't really like Starbucks, and that's pretty much it!
---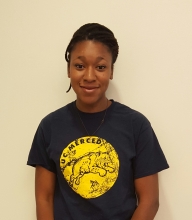 Bernice Onuoha
Biological Sciences major, Microbiology/Immunology emphasis
Hello! My name is Bernice Onuoha and I am a 4th year at UC Merced. My major is Biological Science with an emphasis in Microbiology/Immunology, with a minor in Public Health. I enjoy playing the trombone in Bobcat Band, which I have been a member of since freshman year. I also love to dance, and have participated in African dance groups both at home, and at UC Merced.  I am passionate about community involvement and I am currently thinking about pursuing a Masters degree in Public Health.