Natural Sciences Students Can Study Abroad Too!
           Most students that I meet have a misconception that, if you are a Natural Science student, studying abroad is not an option. That belief is completely untrue! Studying abroad was one of the best experiences I had as a UC Merced student. I studied abroad Spring 2014 in Melbourne, Australia as a sophomore. Luckily I was able to go because some programs only allow Juniors and Seniors to travel. The biggest challenge I found about the process was the planning- but I soon mastered it. At first, the task of finding out which courses would transfer to UC Merced and keep me on track towards my Biological Sciences degree was daunting, but I was able to seek assistance from myEAP and Academic Advisors which made it a little easier.
            Amidst the planning and looking at Melbourne's online course catalogs I also used the previously approved EAP course list. This list was extremely useful because it showed Natural Sciences classes that other UCM students had taken and gotten credit for. After I compiled the list of classes I had prospected to take I felt set. However, I could not register until I had an in person orientation in Australia. I ended up taking Genetics, Biological Psychology, and Neuroscience and the Mind. All three classes counted for me. The latter two counted as upper division psychology classes and satisfied my upper division electives. One set of advice I would suggest is to try and save some of your non-biology electives for abroad.
            Below I've created a general To-Do list of what needs to be done at UC Merced before you can go ahead and jet-set abroad. Although it looks like a lot, when planning to study abroad, you have to begin the process roughly a year before the term you plan on going. For example, I went Spring 2014, so I began researching programs Spring 2013. The earlier you start to plan, the more time you'll have to complete each task correctly.
                      TO DO:
Step 1  Research Programs Offered on Study Abroad Website
Step 2  Fill out online application for Program by the program deadline
Step 3  Research potential classes to take
Step 4  Meet with an Academic Advisor to talk about the classes abroad
Step 5  Wait for approval from UC Merced to Study Abroad
Step 6  Secondary Application from University Abroad (if required)
Step 7  Wait on acceptance from University Abroad
Step 8  Apply for Scholarships and Grants (optional)
Step 9  Meet with a study abroad Financial Aid advisor
Step 10 Get Student Visa, Passport, Plane Tickets
Step 11 Research Living Options Abroad
        Once I completed these steps and was accepted into a program, I packed my bags and made my way to Australia. I quickly settled into my apartment and took some time to get acquainted with the city of Melbourne. The apartments I lived in housed students from the University of Melbourne as well as other students from a neighboring University in the city. The apartment complex held events for their residents which made it easy to make friends. They hosted events like patio bingo and courtyard pool barbeques. They even had shuttles that took you to the beach! I enjoyed my living experience.
       When school started, I was extremely nervous about how rigorous the program would be as well as getting lost at a new campus. Thankfully, I was given a map and signed up for a campus tour which helped me locate my classes with ease. Not only was the setting of the campus different, the size of the campus was a lot bigger than I was used to. The University of Melbourne has 50,000 undergraduates. My chances of still getting lost in the crowd were high. I embarrassingly admit that on my first day I made sure to arrive ten minutes early before my first class. Even though I was early, I walked in and sat down in a lecture hall that was full already. This drew me to conclude that Australians were very punctual. Later, I found out that I walked in on the end of a lecture that was not my class. I made sure to laugh it off and acknowledge that I was in a new place and that it would take some time to get used to.
                I found the courses in Australia to be more challenging than Merced. In the beginning the language barrier was difficult to keep up with. Even though it was English, it took me some time to get adjusted to the accent. By the end of my studies there I felt like I had a little twang in my speech too! Since the campus is so huge, it is improbable for them to host office hours and free tutoring as UC Merced does. However, the professors are very kind and willing to meet with you if you request a meeting. The university even had the lectures recorded so you could re-watch them at home for more review.
            Daily life on campus consisted of students reading on the lawns or playing frisbee. Every Tuesday the university held free weekly barbecues open to all students in addition to live music or Zumba in the quad. The University had tons of clubs to get involved with; DJ club, swim, dance, chocolate club, etc. The study abroad office at the school connected the students to Facebook groups and other exchange students. There were also many events always going on in the city, which was where the university was. My all time favorite event I experienced was called White Nights. It's a citywide event where the streets get closed down and colorful projections span the buildings. There are all types of genres of music being played by live bands throughout the night on different streets.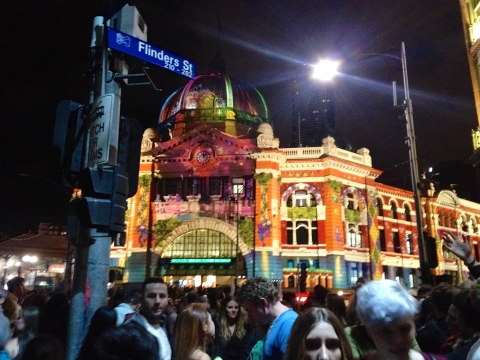 There will most likely be a break during your studies abroad and that is the perfect time to venture out and explore the country you are in even more. During the Easter break, I went backpacking in New Zealand for 11 days by myself on a tour for young adults. I met tons of other solo travelers in New Zealand who were also backpacking from different parts of the world. The scenery looked as if it was a postcard everywhere I looked. I even did the world's first original bungee jump. In Australia, I fed kangaroos, held koalas, and went to iconic beaches, such as Bondi Beach. If you know that you plan to explore the country you go to, the sooner you plan the sooner you can save for these excursions.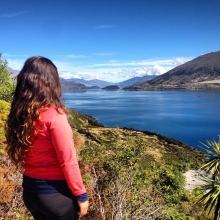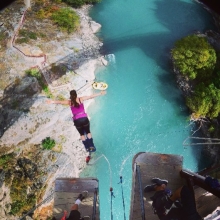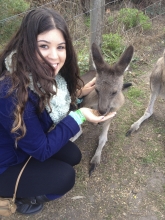 Studying abroad comes with multiple benefits. It is a definite resume booster because you are internationalizing your degree. There are also personal benefits. I gained independence from studying and living in another country, even if for only 6 months. You also make lifetime friendships and experiences. Studying abroad was the absolute best experience of my life. I am so glad I did not let the minor stress of planning deter me from experiencing all the amazing things that I did in Australia. I hope that all other wanderlust natural science students feel inspired to do the same, no matter where it is you desire to go.
Mikaela Rico
Biology Major
Academic Advising Mentor