A Day in the Life of an Undergraduate Research Assistant
As undergraduate research assistants, as well as students of the University of California, Merced, running experiments, making it to class, and making sure you have enough time to do everything else in between requires a lot of planning. In this article Academic Advising Mentors, Jourdan Mason and Gema Rodriguez will give you some insight on what their typical day as undergraduate researchers looks like.
Gema Rodriguez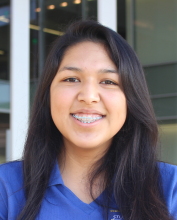 Biological Sciences, Senior
Academic Advising Mentor
My name is Gema Rodriguez and I am an undergraduate research assistant for Dr. Masashi Kitazawa's Neuropathology Lab. In a typical day I am constantly running around campus from S&E1 to COB or SSM to the library and back. Everything is timed and figuring out what is going to fit in a day is a tough task and something we have to be honest with ourselves about. I have been working with Dr. Masashi Kitzawa for about two years now where I have been conducting research to investigate the role of the VCP protein and its diseases.  My research project focuses on how muscle-like cells respond differently to stress in the presence or absences of VCP mutations and how those changes lead to muscle degenerative diseases. 
I work with C2C12 cells which are murine muscle precursor cells. But cells can also be tough to work with: you have to make sure they aren't overgrowing their container, that they have enough nutrients and that most importantly that everything is sterile as to not contaminate, and subsequently kill your cell. My experiments take on average of one to two weeks to complete, with 0-4hrs a day of work. On one of the busier days of the experiment my day would look something like this: Starting a treatment at 8am in the morning so that it can finish incubating by 2pm. In between that time I would have to come in after certain time periods for about 10min each time to change a solution, or I'd be in class or at work. At 2pm I would begin a second part of the experiment such as beginning a western blot probing for protein markers. These experiments take 2 days with an average of 3hrs of work per day. Although, some days are a little less hectic as the initial step of all my experiments is to grow the cells. This is pretty simple and only takes about 20min.
As you can see, my schedule is constantly changing, some days are hectic and some days can be a bit calmer. I think both Jourdan and I would stress that time management and priorities are something we both reflect on and need to be aware of at all times to make sure that we are not only academically successful but also successful in the laboratory environment.
Jourdan Mason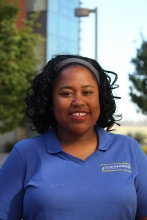 Biological Sciences, Senior
Academic Advising Mentor
My name is Jourdan Mason, I am an undergraduate research assistant for Dr. Jennifer Manilay's Immunology Lab.  This will be my second year working in Dr. Manilay's lab. My typical week involves balancing work, class, experiments, and trying to study in between. In the past I worked with another undergrad, Arthur Chow. However, this year I work primarily by myself so I have a little bit more flexibility with my schedule. One of the biggest struggles I have is setting realistic time management goals. There are only so many hours in a day, that aren't being taken up by class, work, traveling, eating, and sleeping, so I have to be honest with myself about my limits.
In the lab I share responsibility in completing lab chores with the other undergraduates, Jamila and Cameron. These chores consist of such tasks as re-racking pipette tips, washing the occasional dish, and autoclaving lab supplies. This semester I am continuing to work on a project from last year were we are looking at a possible therapy for osteoporosis. This involves testing the immune system in a certain mouse model. So my week might entail tagging, injecting, and collecting blood samples from mice. In another week, the collected blood samples are analyzed using an Enzyme-Linked Immunosorbent Assay (ELISA) to quantify the immune response.
An ELISA is a three day process and each day has timed portions. One day before I begin the ELISA, I prepare the solution I need, label all the tubes, and review and print the protocols. The following day, during the incubation times, allows me to prepare for the subsequent steps. The third day, the ELISA is read on a plate reader in another lab. Once the data has been analyzed, I meet with my faculty researcher to discuss the results and compare them to the other mice tested.
Working with my faculty researcher has been one of the best parts of working in a lab. Dr. Manilay's enthusiasm for her work and love for her students really shines through. Furthermore, her interest in my development has be an invaluable part of my undergraduate career. I've learned a lot about being a strong women in life and in science from her sharing her life with me. I am beyond grateful for the time I have spent in her lab.