Mandatory First Year Advising
Mandatory First Year Advising
All first year students declared in the School of Natural Sciences must meet with an Academic Advisor or Academic Advising Mentor before they are permitted to register for the following semester's courses. The hold is placed to ensure that students understand what their degree requirements are, which courses are best to take, and how to use the online scheduling tools to create a schedule for the upcoming semester.
As a result of Mandatory First Year Advising, students will learn to:
Make informed educational decisions, seeking and weighing the factors that affect these decisions
Seek and apply in your decision-making credible sources of information regarding university and school requirements, policies, regulations, and procedures
Seek and use resources to better understand your academic interests and opportunities
Seek and use resources to develop academic skills and resilience needed to succeed at a research university
Begin to participate in co-curricular educational opportunities freely available to all students at UC Merced
Opportunities To Clear Your Hold -
Event                                          Date & Time                                      Location
---
Chill w/ the Mentors                  October 11th, 1-3                                 S&E1 270
---
NS in the House                      October 16th, 10:30-12:30             Crescent Arch Room
---
Advisors:                  Walk-In Hours or by Appointment                         SE1 270   
Mentors:                   Walk-In Hours                                                          SE1 270
When meeting with an Academic Advisor or Academic Advising Mentor, you must bring the following:
A printed copy of your current MyDegreePath Audit (or a What-If Audit for your expected major or emphasis
For MyDegreePath assistance, please attend one of the upcoming workshops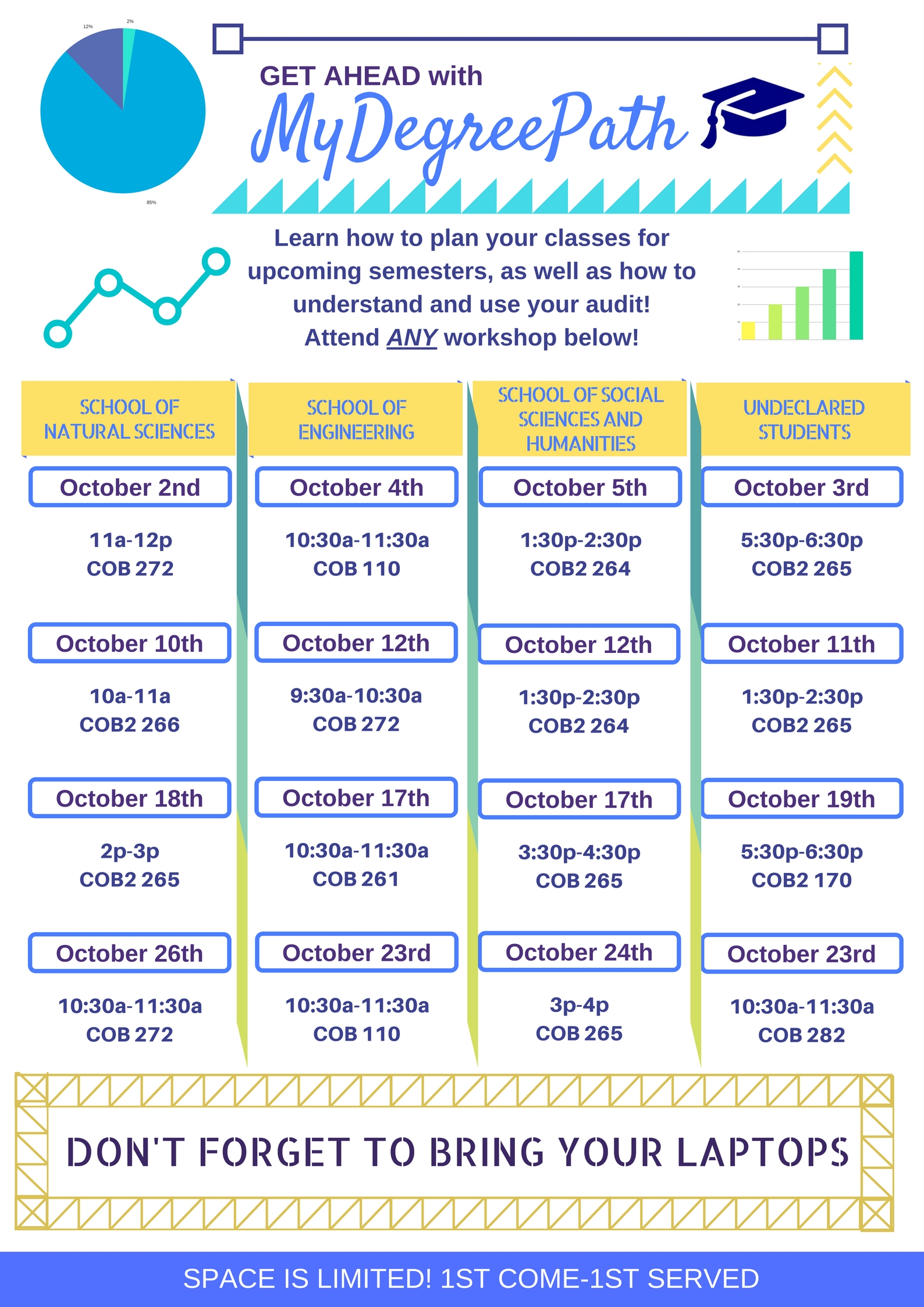 2. A printed and completed planning worksheet.
Here are some resources to help you create your tentative Spring 2018 schedule for your Planning Worksheet:
Students who plan to complete their degree in a Natural Sciences major:
Schedule of Classes- Refer to the Schedule of Classes to see what courses are offered next semester. 
*Spring 2018 Schedule of classes will be available in October. In the meantime, feel free to refer to the Spring 2017 Schedule of Classes.
Major Requirements- Use this list of sample plans as a guide to fill out your planning worksheet. 
Course Flow Charts - Select the appropriate course flow chart based on your major or intended major.